Queens Diamond Jubilee Flypast
19/05 Windsor
Saturday saw a spectacular flypast over the top of Windsor Castle as thousands of members of the Royal Navy, Army and Royal Air Force took part in a parade to mark the Queen's Diamond Jubilee. The Flypast included 78 current and historic aircraft from the AAC, FAA and the RAF.
Aircraft involved

Army Air Corps

1x AH64 Apache

1x Lynx MK7

1x Gazelle

1x Bell 212

Fleet Air Arm

1x Merlin HM1

1x Lynx MK8

1x Sea King ASaC.7

1x Sea King HC4

Royal Air Force

1x Chinook HC3

1x Puma

1x Sea King HAR3

1x Merlin HC3

9x Typhoons (Various Marks)

1x Lancaster B1 (BBMF)

3x Spirtfires (Various Marks - BBMF)

20x Tucano Mk1

2x C130 Hercules

1x VC10

2x Tornado GR4s

27x Hawks (T1 and T2)

9x Hawks (RAFAT)
The start of the Parade began with a "Diamond Nine" formation flypast of RAF Typhoons based at RAF Coningsby with aircraft from 3, 11, 17 and 29 Squadrons.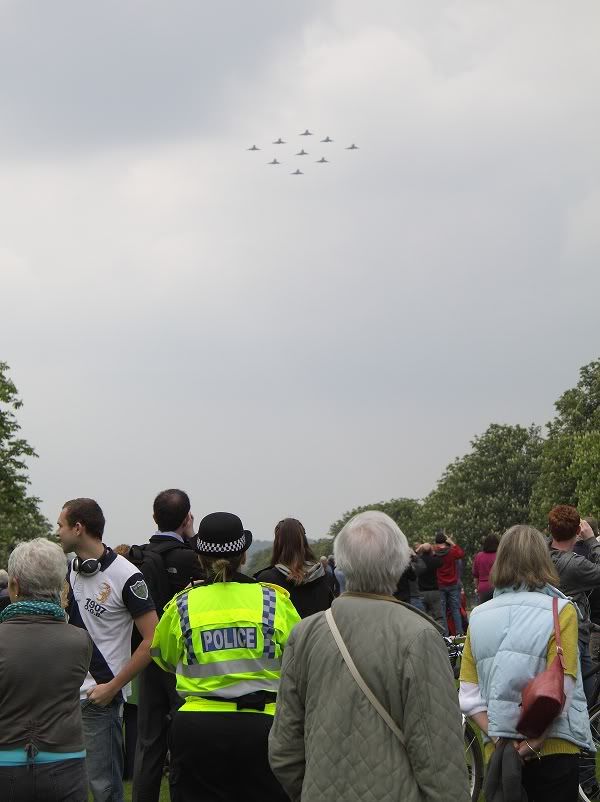 WAP
To close the celebrations, the flypast of 78-aircraft from all three Services took place including helicopters from all 3 services, the Lancaster and Spitfires of the Battle of Britain Memorial Flight; Hercules, VC10 and Tornado aircraft; Hawks flying in the "E II R" formation and Tucanos flying in the "60" formation and finishing with the world-renowned Red Arrows flying their new 3D Diamond formation.
Helicopter Element - The RAF leading the way with the AAC behind and the FAA taking up the tail end charlie.
BP2324
The BBMF Element led by Avro Lancaster B.1 PA474 with 4 Spitfires of various marks.
Binky Airways
60 Years Formation - Made up from 20 Tucano T1's from 1 FTS
Tomcat14
C130 Hercules Formation - 2 Aircraft from 24 and 30 Squadrons based at Brize Norton.
BP2324
Nick197
VC10 from 101 Squadron with 2 Marham Tornado GR4's
Binky Airways
Jigernutt
EIIR Formation - 208 Squadron made up the R, 100 Squadron and NFWS made up the II and IV(R) Squadron made up the E using a mixed formation of T1's and T2's (27 in Total)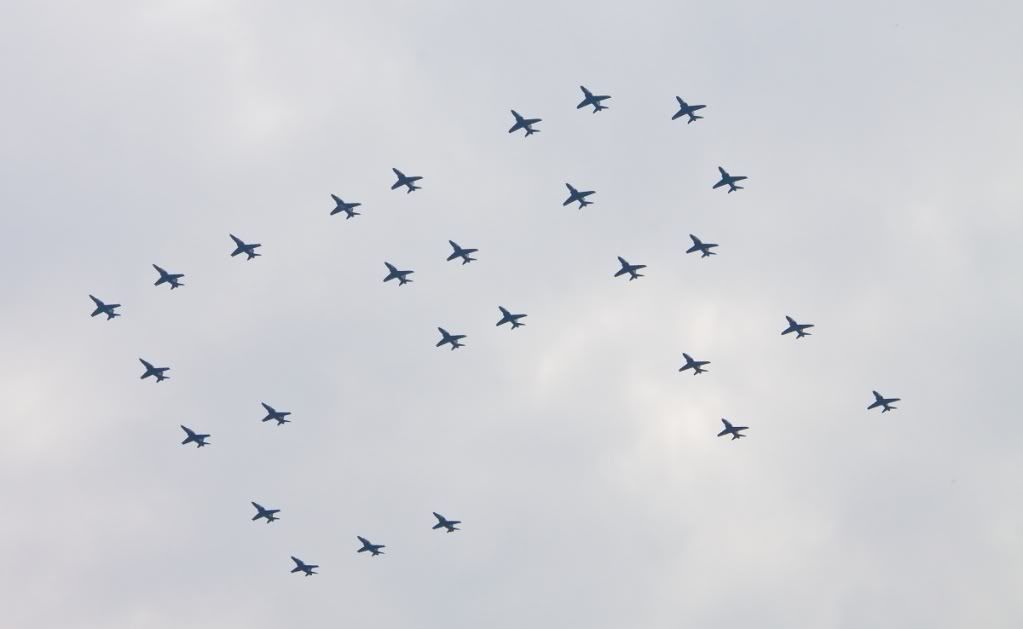 WAP
jingernut
The RAFAT The Red arrows closed the flypast trailing Red, White and Blue smoke in their brand new 3D Diamond Nine formation.
Effects
A superb show of force by all of the air arms and crews involved!!
Thanks to all who have posted!