Did you know that registration to Fighter Control is completely free and brings you lots of added features? Find out more...
.
Moderator: Flyingmonster
---
viper3111
With that paint dry I will start to mask up for the green camo. There are various ways of doing this and as I dont normally mask up for camo as I usually spray free hand so please bare with me.
Firstly I will leave the tape on that I used to mask up the underside. I will start with using 10mm tamiya masking tape and lay it across the are were the pattern will be.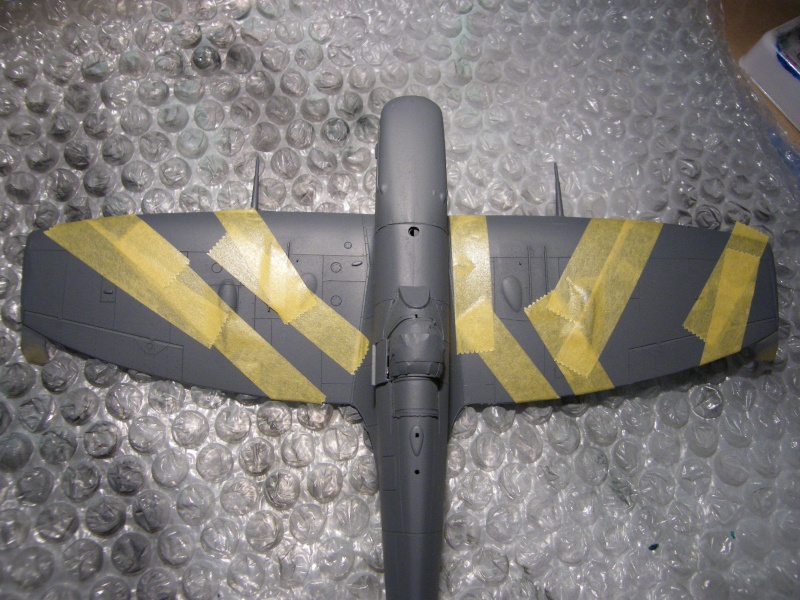 I will now use a new blade on my knife to cut the tape to shape, please dont push to hard or else you will end up with line in the plastic like I did. Then they will have to be cleaned up with a light wet and dry
It just shows we all make mistakes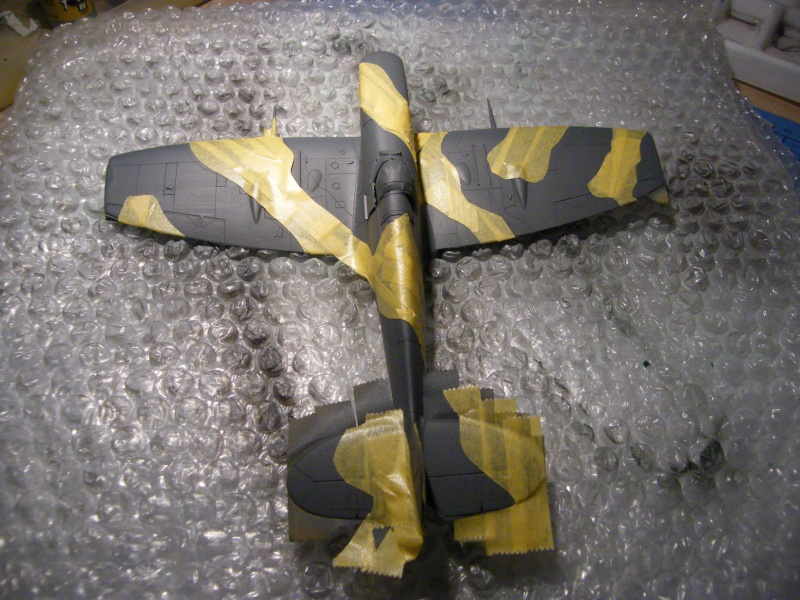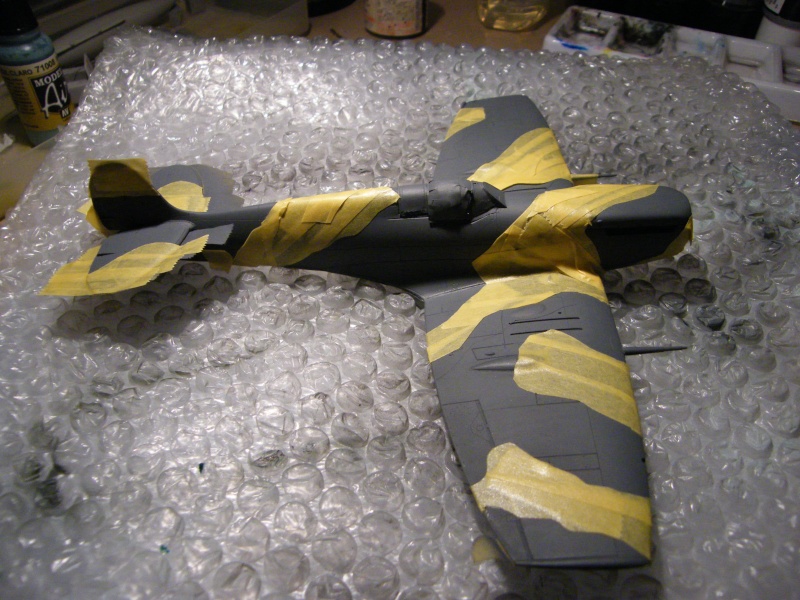 Any body who sprays knows that it takes more time masking up than it does to actually spray the thing, but I have always found it worth it. If you are brushing then you wont need to mask up (unless you want to) as you can usually get a reasonable line with the brush. But it is always handy if you do mask up.
I have now sprayed the green, for this I have used humbrol 159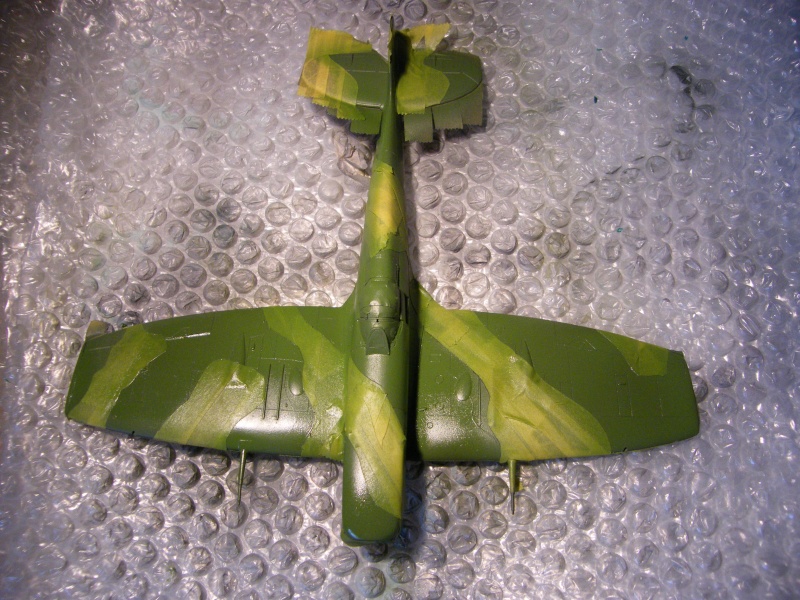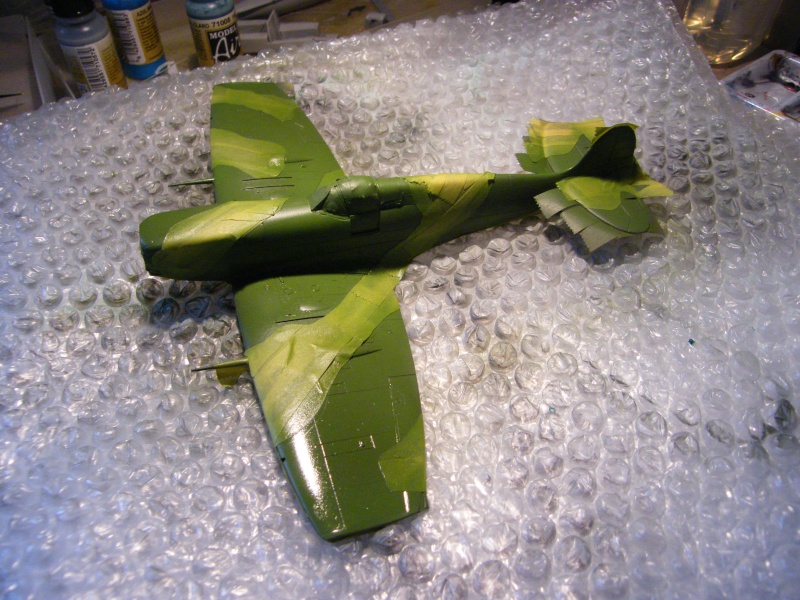 The paint in these pictures is still wett, it will dry matt.
This will of coarse be left until tomorrow when I will remove the masking tape. As you know I like to leave it to dry for some time so I will start to tidy up and odds and ends like the wheels.
---
viper3111
With the paint dry (but not hard enough just yet) I will remove the masking tape. Before I do this I will assemble the undercarriage so that I can stand the model up. As I am removing the masking, I will also remove the undercarriage doors so that they can be glued to the legs.
This is the undercarriage on the instructions
This is it once I have glued it together. I have used the pro modeller black wash on the wheel hubs to give the recess that 'dirty' look. All I have done is brushed it round the entire rim, left it to dry for 1 hour then using a slightly moistened cotton bud I have wiped of the excess.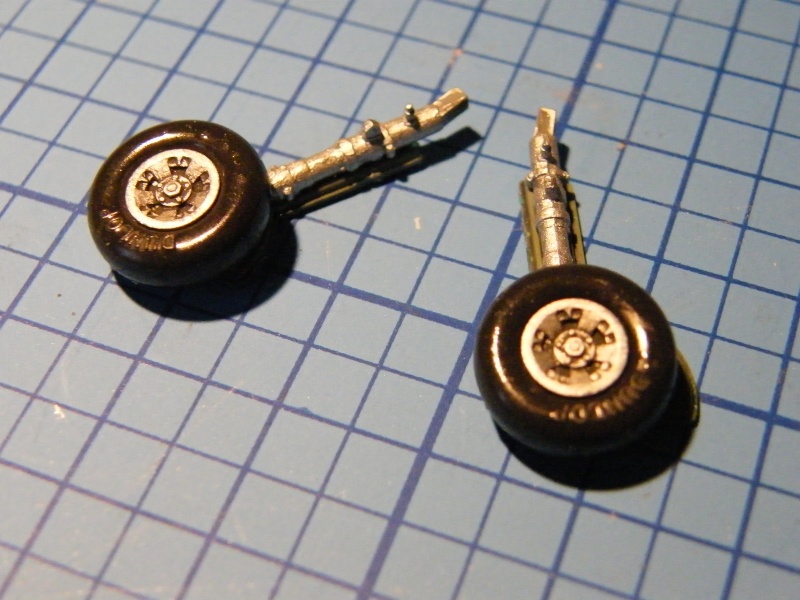 I will leave them to dry for a couple of hours then they will be glued into there respective holes under the wings.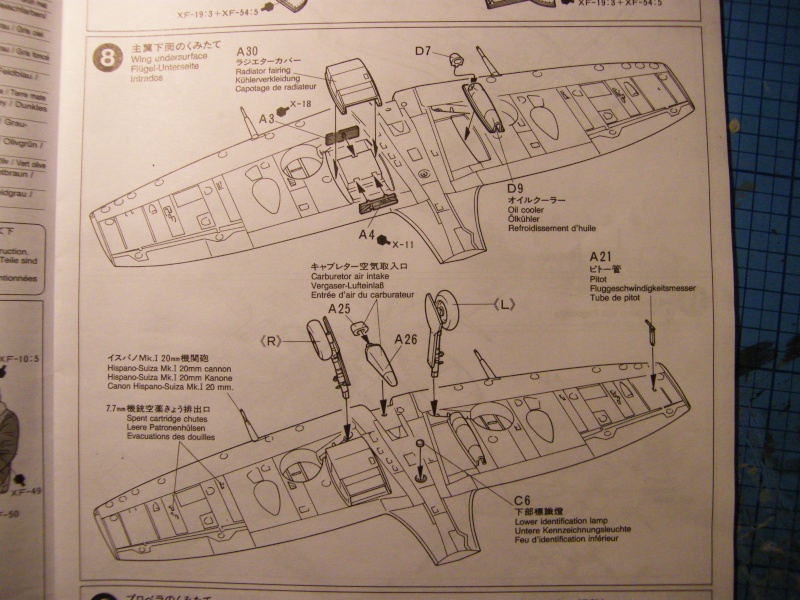 As I did this yesterday they have been glued into place, and all of the masking has been removed.
This is the cammo, after my mishap with my knife the paint has gone on quite nicely. So I think the main thing to remember there is if things go wrong or dont go how you want them they can be sorted. This was corrected with some wet and dry paper and some patience.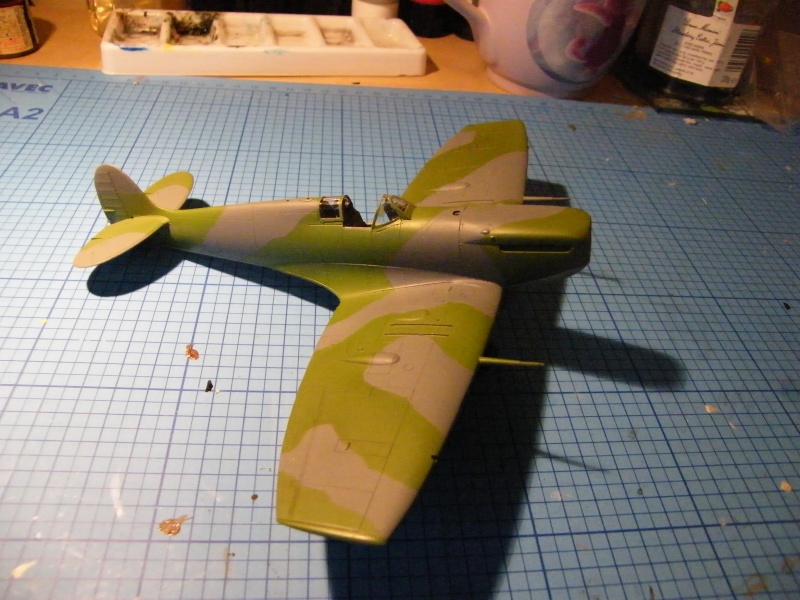 It has even got me thinking about doing another RAF aircraft. But saying that I have got my Ely gate guard to do in RAF grey/green cammo but it was also in a silver scheme, ah decisions decisions.
Next week I will give the entire aircraft a coat of johnsons Klear, ready for the decals.
---
viper3111
I have given the spitfire a coat of johnsons klear. This is excellent stuff as you dont need to thin it and it dries very quickly.
Now for the decals
I find with decaling you either like it or hate it, I dont mind the larger decals like roundels, nose art and stripes. I loath stenciling as there are so many of them and they are fiddly. I will admit that I dont always put all fo the stenciling on so this will be down to personal choice. Thankfully the spit doesn't have much in the way of stenciling so I quite enjoyed this.
All you need for decaling is a small container of warm water (I will explain this in a moment), a sharp knife,a paint brush (preferably a flat one) scissors and tweezers. As you progress you will also use some decaling solutions, the most common is micrscale's micro set. this basically softens the decal so that it adheres to the surface better and it will conform the the surface. This combined with the gloss finish on your aircraft and the decals should have a 'painted on' look as the carrier film will disappear on the gloss surface. I will be using a combination of microset and some new Daco productions medium decal solution. I havnt used the Daco yet as I only bought it when I went to Telford.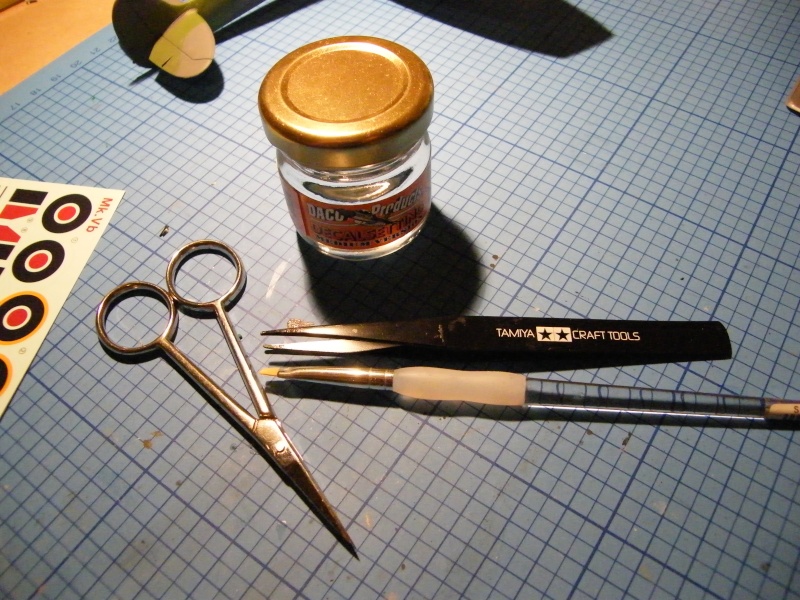 Firstly you will need to cut the decal that you are going to be using off of the sheet, this can be done with either scissors or a knife. The only thing that you have to be careful of is not to cut to much of the carrier film off as this is what makes the decal 'stick' to the surface.
This is where you will need the warm water. Decals come away from the backing paper quicker and more cleanly when submersed in warm water as it softens the glue up a lot easier. I also put the decal in the water face down as this will prevent the decal from curling up, then just leave it in the water for about 20 seconds (dependant on how warm you have the water)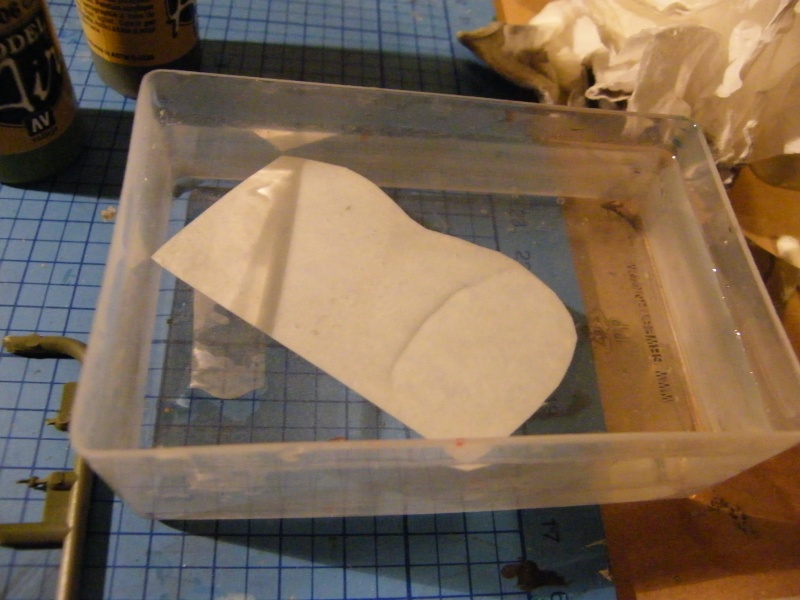 I find the best way to apply the decal is to hold the backing paper with the tweezers and then slide the decal onto the surface with either your finger or paint brush. Once the decal is on the surface of the kit I find to move it into position, if you dip your brush into the water and brush over the decals. Then using the opposite end of your paint brush (preferably if it is a rounded tip rather than a pointed one as some are) then you can gently push the decal around. When it is in the desired postion use the kitchen towel to absorb the water. Unfortunately I cant do this and take pictures so I have just moved on to the picture of the decal on the surface.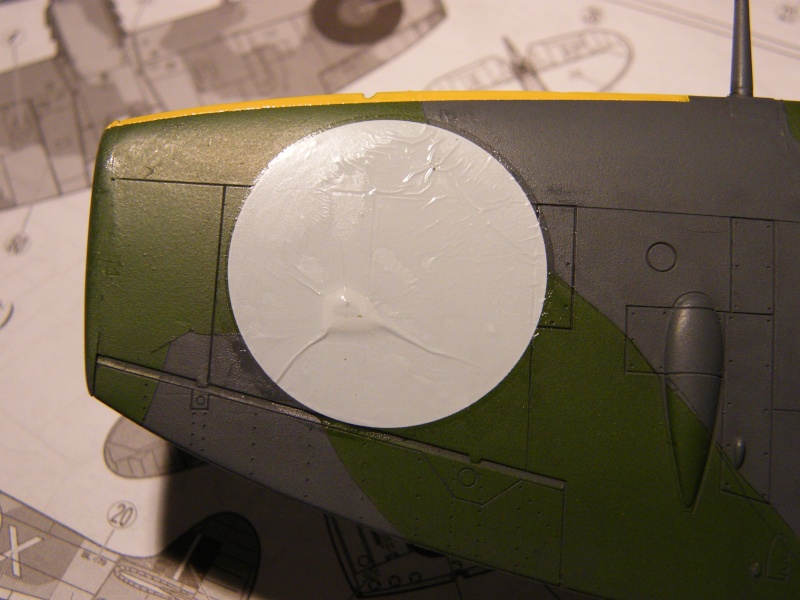 I will now give the decal a thin coat of decal solution using my flat brush. I use a flat brush as it tends to smooth the decal out quite nicely. Before I do this I have removed any excess water using kitchen towel as this will suck up the water just by touching it on the surface carefully.
I have now brushed the micro set onto the decal, the decal will take on a wrinkled look but dont worry as it will flatten out as it dries. Just leave it to dry and apply more solution if you prefer as it will get smoother and smoother each time.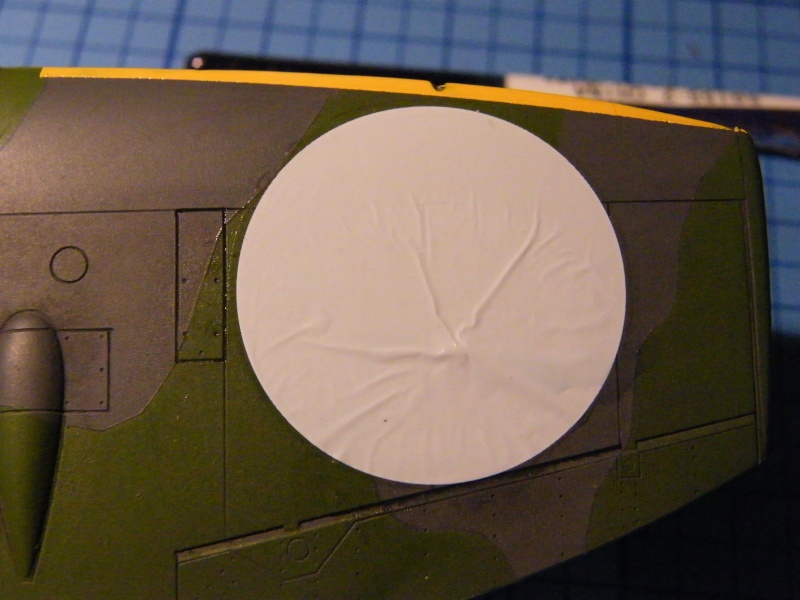 You can do as many decals as you like at a time, all you have to be careful of is that you dont put your finger on any of the decals as the will come of if they are not dry.
I will now continue to apply the decals and then I will try my new Daco productions solution on the roundals.
Once all these are dry tomorrow I will mask up the yellow stripes along the front of the wings. There are decals for these but I prefer to paint these as I find I get a better finish and it is easier.
---
viper3111
I have now finished all the decaling so I will move on to painting the yellow stripes along the leading edge of the wing. For this I will mask it up with 6mm Tamiya tape. I will be brush painting these, but I will mask up so that I get a nice crisp line.
The eagle eyed of you will notice that this was done before I did the decaing, this is my fault as I posted them in the wrong order as I wrote these both up on friday and I posted them when I was half a sleep when I got home from my night shift and I only realised when I went to post the next stage
This can be done before decaling or after so there is no strict order.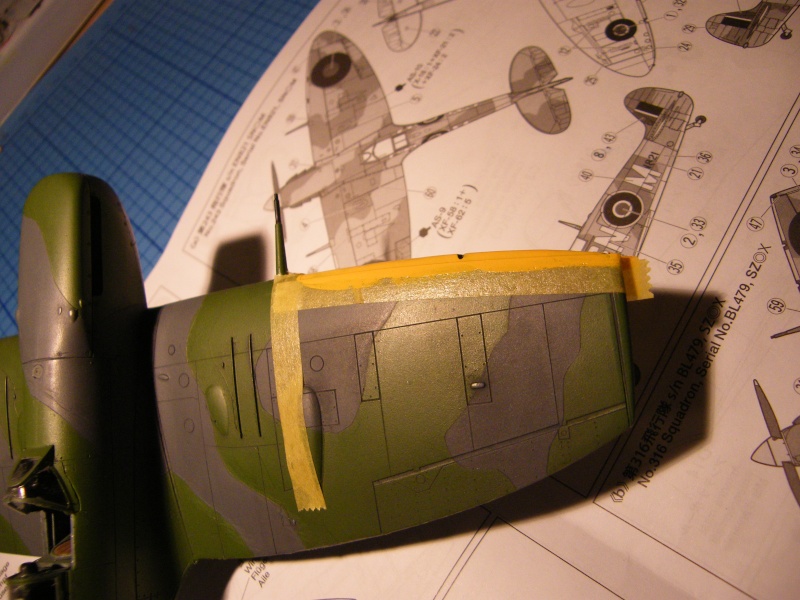 I have used my trusty small flat tipped brush to paint these as it gives a nice smooth finish and I could do the whole stripe with one sweep. I have used humbrol 69 as this is a slightly more darker finish than bright yellow. I will give this a second coat as it sometimes doesn't cover 100% and it will look even better with a second coat.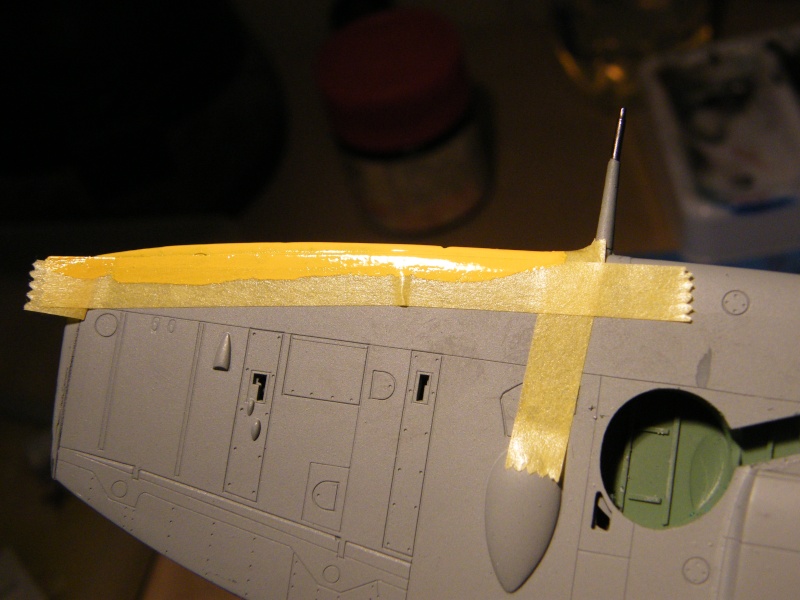 I have also painted the canon's with humbrol gun metal
As the yellow is gloss it will take some time to dry, so I will leave it over night to dry and I will remove the tape later.
As you now know I actually did this on friday and it is nice and dry so I will put the next steps up later on this evening.
---
viper3111
The masking tape has now been removed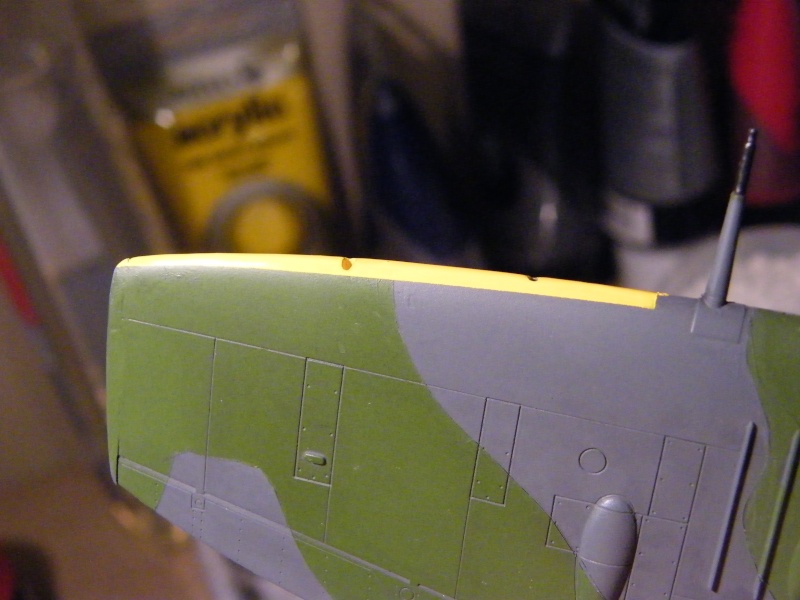 Now that all this has dried and the decals are all done I will give it another coat of matt and that's pretty much it. All there is to do now is glue the main canopy in place with canopy glue and to push the prop into place. I have also painted some red squares around the gun holes, I used humbrol 19 for this.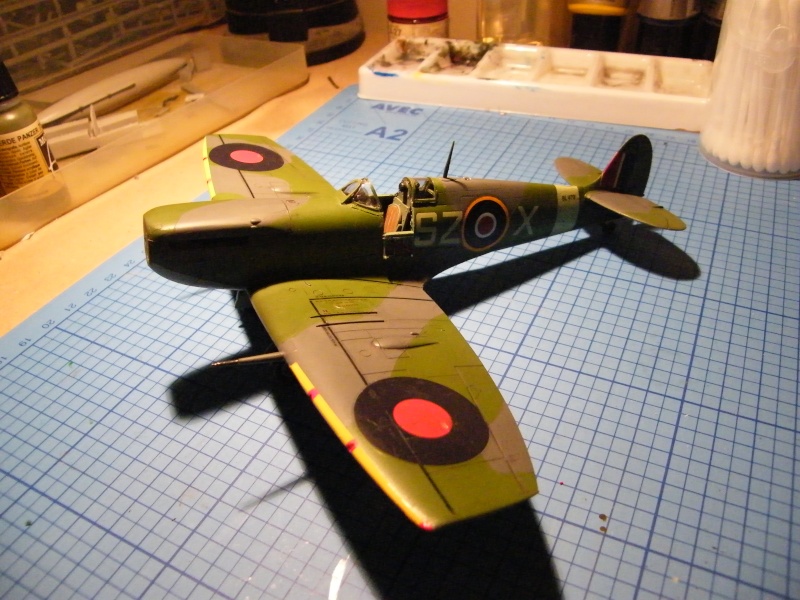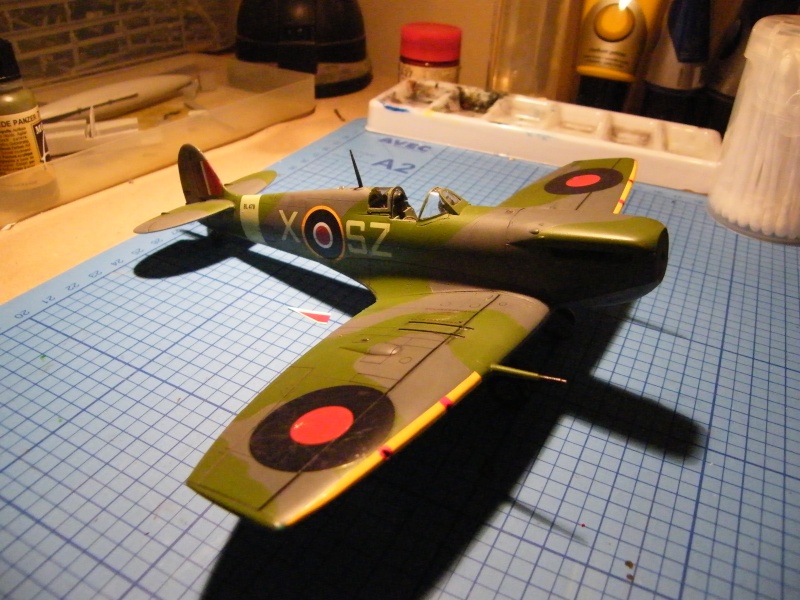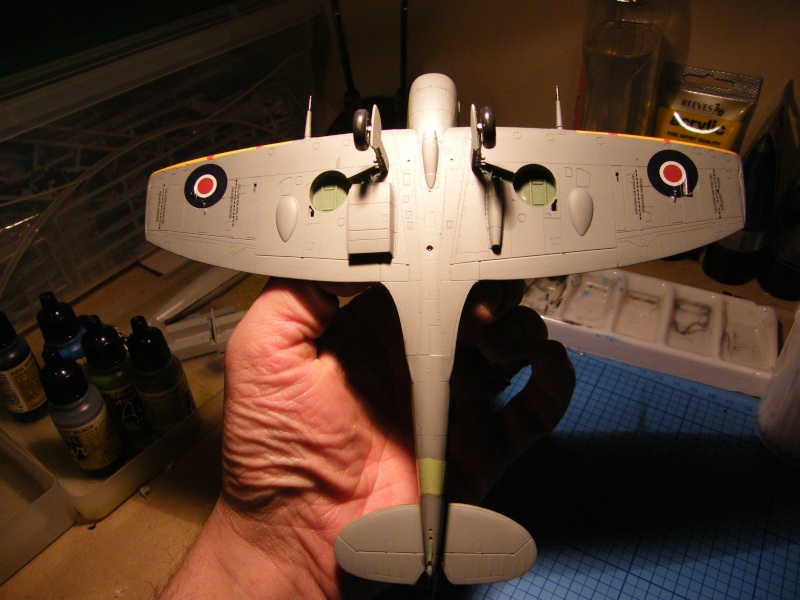 The exhausts can now be glued into place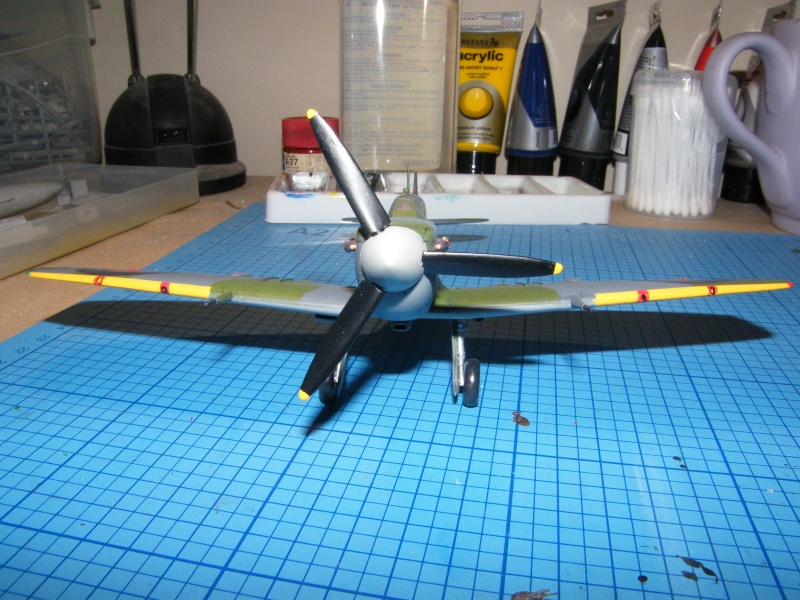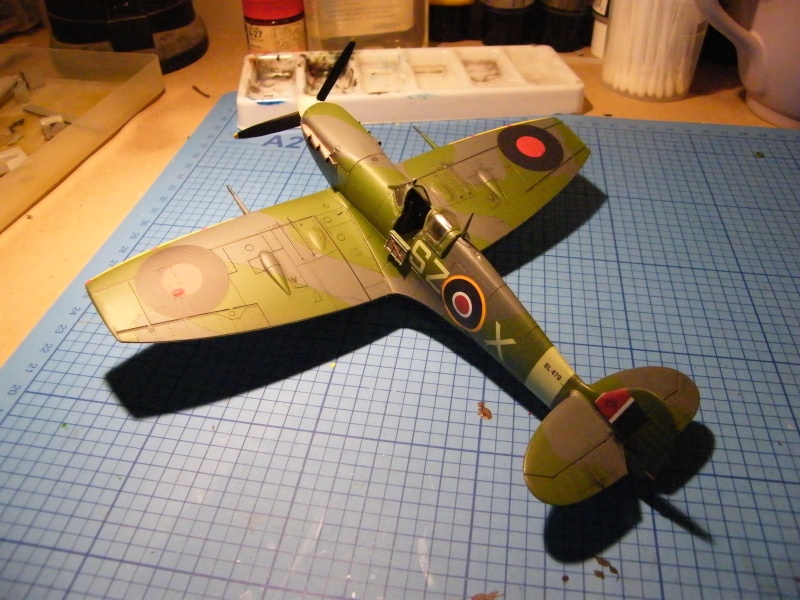 The door, once I removed it from the cockpit had a red stripe painted along the inside handle and then it was glued into place.
Well that's it, I hope this was of use to someone. It wasn't as easy as I thought it would be as it was hard not doing stuff that I would normally do on a build.
Any way thanks to any one who has been following this
---
Who is online
Users browsing this forum: No registered users and 1 guest