Hi all,
Yes it is extremely late but here are the Highlights of the Month as provided by the members of the Fighter Control forum for the months of March and April 2017. I'm sorry if I have missed some stuff that may have been worthy of inclusion but I really haven't had the time recently - it's taken a long time to sort this out and I haven't even waited to receive permission from some of the contributors to this thread but I hope they will accept when they see their messages. Anyway - on with the highlights. As before any corrections are welcome - I have to research the stuff I write in here so not all of it may be completely accurate:
XV Squadron disband as a Tornado GR4 squadron
Photographer: np1991
Thread:
viewtopic.php?f=16&t=143536
Flickr:
https://www.flickr.com/photos/59398793@N03/
Poker 51 Flight
by
Niall Paterson
, on Flickr
On Friday 17th March 2017 the time came for RAF Lossiemouth to say goodbye to XV(R) Squadron as the unit flew its final sortie as a Tornado GR4 squadron. The squadron embarked on a farewell tour of the area with a five-ship formation comprising ZD741/F-LS, ZA453/022, ZA588/056, ZD848/109 and ZD711/079. The formation - callsign "Poker 51 Flight" visited several places for flypasts including Aberdeen, RAF Leuchars and the Tain Air Weapons Range before returning to RAF Lossiemouth for an airfield attack and final landing. XV Squadron was formed on 1st March 1915 at Farnborough and played an active role during the First World War, primarily as a reconnaissance unit flying over the battlefields of France. During the Second World War the squadron began operating heavy-bombers - most notably the Short Stirling. XV entered the jet age in 1953 with the English Electric Canberra and eventually became an operational Tornado GR1 squadron in 1983. The squadron flew with distinction during Gulf War One in 1991. The squadron was disbanded at the end of that year but were reformed months later as the new numberplate for the Tornado Weapons Conversion Unit at RAF Honington. XV moved to RAF Lossiemouth in November 1993 and has been there ever since. XV Squadron officially disbanded on 31st March 2017 ending over 30 years of Tornado operations.
Patrouille de France leave Lossiemouth for North American Tour
Photographer: MADPIX
Thread:
viewtopic.php?f=16&t=143566
Photobucket:
http://s19.photobucket.com/user/liammcb ... t=2&page=1
The morning of Sunday 19th March saw the departure from RAF Lossiemouth of the Patrouille de France to continue their journey to the United States. The team are embarking on a tour of North America and since arriving have so far flown a flypast over the Statue of Liberty, New York and the Capitol Building, Washington DC. They have also taken part in the 2017 Melbourne Air and Space Show held at Florida International Airport where they flew alongside the US Navy Blue Angels and the USAF Thunderbirds. The team flew several other displays and flypasts during their time so far in America including over the Golden Gate Bridge, San Francisco.
U-28's Depart Mildenhall
Photographer: BOLLO
Thread:
viewtopic.php?f=16&t=143321
Flickr:
https://www.flickr.com/photos/106768903@N02/
A-319SOS-U-28's-RCH-1020-RC
by
Paul Callaghan
, on Flickr
Departing RAF Mildenhall on Monday 13th March were three US Air Force U-28A's heading back home to America following an Eastern deployment. The three aircraft comprised 07-0488, 07-0838 and 07-0829 belonging to the 319th Special Operations Squadron based at Hurlburt Field, Florida. The U-28A is a modified version of the Pilatus PC-12 and its main role with the US Air Force is to support US Special Forces operations around the world by providing airborne intelligence, surveillance and reconnaissance.
German Navy Dornier at Humberside
Photographer: rich
Thread:
viewtopic.php?f=16&t=143412
Flickr: ??
Arriving for a quick fuel stop at Humberside Airport on Tuesday 14th March was German Navy Dornier Do-228 57+04. The aircraft is one of two operated by the Navy in the pollution control role - responsible for patrolling and inspecting the territorial waters and fisheries of the Baltic and North Sea. The aircraft belongs to Marinefliegergeschwader 3 (MFG-3) based at Nordholz. The aircraft entered service with the German Navy in 1982.
Moroccan Types visit Prestwick
Photographer: Stewart Marshall
Thread:
viewtopic.php?f=16&t=143224
Flickr:
https://www.flickr.com/photos/globespan767/
Visiting Prestwick International Airport in early March were two examples of transport aircraft. The first to arrive was Avro RJ-100 - serialled CNA-SM - which was due a short period of maintenance. The aircraft was previously operated by the Abu Dhabi Amiri Flight and was acquired by the Moroccan Government after a period of storage at Kemble Airfield. The aircraft is used to provide VIP transport to government ministers and officials. Also arriving on the same day was this Royal Moroccan Air Force CASA CN-235M transport aircraft which was used as a ferry for the crew who delivered the RJ100. The Royal Moroccan Air Force has a total of seven of the type in service based at 3rd Air Force Base at Kenitra.
815 Naval Air Squadron bids farewell to the Lynx
Photographer: centaurus18
Thread:
viewtopic.php?f=16&t=143865
Website:
http://www.markrussellaviationpix.co.uk
On Friday 17th March the Royal Navy bade farewell to its veteran Westland Lynx HMA.8 helicopters. 815 Naval Air Squadron officially retired the type on 23rd March but the squadron flew their last flight from RNAS Yeovilton on the 17th. 815 NAS flew a formation of four aircraft on a tour of the local area before returning to the station to end nearly 40 years of Lynx operations by the Royal Navy. The last deployment by a Lynx HMA.8 only ended on March 10th with the return of 208 Flight after a nine-month tour aboard HMS Portland. The navalised variant of the Lynx - designated the HAS.2 - entered service with the Fleet Air Arm in 1981 and was modernised several times over the years to the current HMA.8 standard. The Navy's Lynx helicopters have served with distinction throughout many conflicts around the world - most notably in the Falklands War of 1982. The helicopters have also proved their worth throughout the world on disaster relief and humanitarian operations. 815 Naval Air Squadron will now fully transition to the new Westland Wildcat HMA.2.
Shark Mouth applied to USAF RC-135U
Photographer: Zymurgy661
Thread:
viewtopic.php?f=16&t=144730
Flickr:
https://www.flickr.com/photos/zymurgy661/
Boeing RC-135U 64-14847
by
Adam Duffield
, on Flickr
On March 25th, RAF Mildenhall bade farewell to Boeing RC-135U Combat Sent 64-14847. The aircraft belongs to the 45th Reconnaissance Squadron based at Offutt Air Force Base, Nebraska. The aircraft features a shark mouth design on the nose of the aircraft - this is the third time in the history of this RC-135U that a shark mouth has been applied to the nose - the first time was in 1983 and the second time during the 1990's. The RC-135U is an electronic reconnaissance aircraft tasked with providing senior military officials with the locations of enemy radar signals. The United States Air Force has only two of the type in service.
Third batch of Advanced Eagles transit through Lakenheath
Photographer: FlyingAnts
Thread:
viewtopic.php?f=16&t=144027
Flickr:
https://www.flickr.com/photos/55198703@N02/
Royal Saudi Air Force | Boeing F-15SA | 12-1005
by
FlyingAnts
, on Flickr
On 29th March the third batch of Boeing F-15SA Eagles transitted through RAF Lakenheath on their delivery flights to Saudi Arabia. The aircraft - Retro 61 to 65 - comprised all new build airframes: 12-1005, 12-1008, 12-1032, 12-1039 and 12-1047. Previous delivery flights have included a mix of new build and upgraded aircraft. This batch takes the total delivered so far to 12.
Exercise Joint Warrior 17-1 gets underway at Lossiemouth
Photographer: np1991
Thread:
viewtopic.php?f=16&t=144460
Flickr:
https://www.flickr.com/photos/59398793@N03/
German P3
by
Niall Paterson
, on Flickr
Compared to last years Joint Warrior exercises at RAF Lossiemouth the first instalment of the series for 2017 was slightly quieter - certainly in terms of aircraft participation. Foreign exercise participants included four US Navy Boeing P-8A Poseidon aircraft belonging to both Patrol Squadron 45 (VP-45) 'Pelicans' and Patrol Squadron 16 (VP-16) 'War Eagles' which swapped in and out as the exercises progressed. Other foreign assets involved were two German Navy Lockheed P-3C Orion belonging to MFG-5 at Nordholz and a French Navy Atlantique - operated by 21F and 23F from Lann Bihoue. Exercise Joint Warrior features land, sea and air based scenarios - fusing together all of the forces into combined operations to achieve a strategic goal.
French Gazelles at Middle Wallop
Photographer: pg1610
Thread:
viewtopic.php?f=16&t=144503
Flickr:
https://www.flickr.com/photos/52287882@ ... 071908004/
Aerospatiale SA.342M Gazelle French Army 4072/GEC
On Friday 7th April two Armée de Terre (French Army) Aerospatiale Gazelle helicopters arrived at AAC Middle Wallop for an event marking the 50th Anniversary of the types first flight. The aircraft comprised 4072/GEC and 4207/GBI. The French Army has over 100 of the Gazelles left in service despite their age due to their excellent ability as a battlefield reconnaissance helicopter. The aircraft is light, manoeuvrable and fast - especially at the low-levels at which it predominantly operates. The French have though ordered the EC665 Tiger to replace the Gazelle during the 2020's. The Gazelle is operated by all of the French Army Aviation regiments - these are: 1st Combat Helicopter Regiment, 3rd Combat Helicopter Regiment, 5th Combat Helicopter Regiment as well as the 4th Special Forces Helicopter Regiment.
Italian C-27J visits Manchester Airport
Photographer: hoppie
Thread:
viewtopic.php?f=16&t=144870
Flickr:
https://www.flickr.com/photos/hoppieno3/
DSC_9082 by
Mike Hopwood
, on Flickr
On Monday 17th April the Aeronautica Militare Italiana (AMI - Italian Air Force) paid a visit to Manchester International Airport. Arriving for a fuel stop was this Alenia C-27J Spartan - serialled MM62221/46-85 - belonging to 98 Gruppo (Squadron), 46 Brigata Aerea (Air Brigade) based at Pisa Air Base. The Italian Air Force took delivery of their first C-27J during October 2006 with an eventual complement of 12 aircraft arriving by the end of 2012. The aircraft has seen service operationally with the AMI in Afghanistan and also contributed to the disaster relief operations in the aftermath of Typhoon Haiyan in the Philippines.
First ever European deployment for US Air Force F-35A
Photographer: Neil D & slogen51
Thread:
viewtopic.php?f=369&t=145772
&
viewtopic.php?f=369&t=145752
Flickr:
https://www.flickr.com/photos/ndunridge/
&
https://www.flickr.com/photos/137614083@N04/
F-35A 13-5081 388FW
by
Neil Dunridge
, on Flickr
The weekend of the 15th April saw the arrival at RAF Lakenheath of eight Lockheed Martin F-35A Lightning II aircraft on the maiden European deployment for the type. The aircraft were assigned to the 34th Fighter Squadron - home based at Hill AFB, Utah. The squadron used their time in England to fly multiple sorties with the 493rd Fighter Squadron and their F-15C's. The 34th FS also visited Estonia and Bulgaria and of course made an appearance in LFA7. The aircraft involved in the deployment comprised: 13-5072, 14-5098, 14-5094, 14-5096, 14-5097, 14-5102, 13-5081 and 14-5091.
14-5091 Thud 62 going home EGUL 4-May-17
by
Mike B
, on Flickr
Deployed F-22A's transit through Mildenhall
Photographer: slogen51
Thread:
viewtopic.php?f=16&t=144999&hilit=Raptors
Flickr:
https://www.flickr.com/photos/137614083@N04/
06-4129 F-22A 525FS Tabor 11 EGUN 19-4-2017
by
Mike B
, on Flickr
Mid April also saw another fifth generation fighter visit Suffolk with the deployed 525th Fighter Squadron and their Lockheed Martin F-22A Raptors transitting through RAF Mildenhall on their return to the USA. The 525th FS are home based at Elmendorf Air Force Base, Alaska and had completed their deployment to the Middle East in support of Operation Inherent Resolve. The first two aircraft to arrive were "Tabor 11/12" comprising serials 06-4129 and 06-4118 which landed on 19th April with another pair "Tabor 13/14" (07-4149 and 07-4150) landing the next day and the final two "Tabor 15/16" (04-4074 and 06-4127) arriving on the 23rd. All aircraft departed the day after they landed for the final leg of their journey home.
US Army C-26 at Glasgow
Photographer: duran212
Thread:
viewtopic.php?f=16&t=145464
Photobucket: ??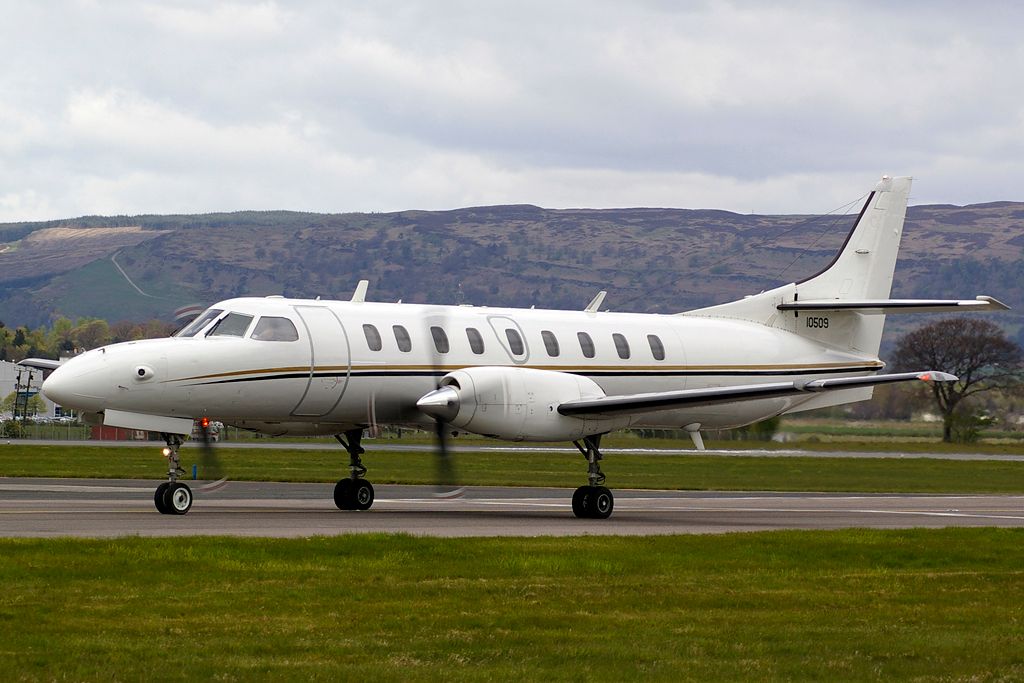 On 27th April the US Army visited Glasgow International Airport with a Fairchild C-26 Metroliner. The variant in question was the C-26E which is an upgraded version of the C-26B. The aircraft is used as a rapidly deployable transport aircraft for high priority re-supply and personnel movement to remote, unserviced or unprepared airstrips throughout the world. The US Army took delivery of its first C-26 in the late 1980's and the aircraft has proved a relatively successful export with orders made by - amongst others - Colombia, Peru, Mexico and Venezuela.
From abroad:
Fighter action at Andravida Air Base
Photographer: MarkS
Thread:
viewtopic.php?f=16&t=144123
Flickr:
https://www.flickr.com/photos/mark1stevens/
F-4E .....
by
Mark Stevens
, on Flickr
Some members of the Fighter Control forum are luckier than others and in late March member MarkS was fortunate enough to spend some time next to the runway at Andravida Air Base, Greece during Exercise Iniohos 17 - an annual major multi-national air exercise hosted by the 117th Combat Wing, Hellenic Air Force. This years exercise saw participation from a number of Greek units as well as 12 Lockheed Martin F-16C's of the 482nd Fighter Wing based at Homestead Air Force Base, Florida, four Italian AMX aircraft belonging to the 132 Gruppo, 51 Stormo at Istrana Air Base, 12 F-16's from 101 'First Fighter' and 105 'Scorpion' Squadron of the Israeli Air Force and and six F-16's from the 1st and 2nd Shaheen Squadrons of the United Arab Emirates Air Fore & Air Defence. Greek assets included those of the two Andravida based F-4E PI2000 Phantom units - the 338th Fighter Bomber Squadron 'Ares' and 339th Interceptor Squadron 'Ajax' as well as F-16C's from six squadrtons: 341, 347, 340, 343, 335 and 336 Miras and Dassault Mirage 2000-5's from 331 Mira, 114th Combat Wing.
F-16I 676
by
Mark Stevens
, on Flickr
Exercise Frisian Flag at Leeuwarden
Photographer: theskunk
Thread:
viewtopic.php?f=16&t=145306&p=894381&hi ... ag#p894381
Flickr:
https://www.flickr.com/photos/theskunk/
Belgium Air Component F-16AM FA-70 [349Sq]
by
Gary Beale
, on Flickr
The 27th March saw the beginning of the annual Exercise Frisian Flag held at Leeuwarden Air Base, Netherlands. This large-force exercise saw participation from a number of air arms from around Europe and the USA with units attending the exercise including 12 F15C/D's of the 122nd Expeditionary Fighter Squadron, Louisiana ANG, 5 Portuguese F-16C's, 10 Luftwaffe Eurofighters, 7 F-16AM's of 349 Squadron, Belgian Air Component, 6 Royal Air Force Tornado GR4's from 31 Squadron, 4 EC01.003 French Air Force Mirage 2000D's and of course various Royal Netherlands Air Force F-16AM's from 312, 313 and 322 Squadron. As usual the European Aerial Refuelling Exercise (EART) ran concurrently with Frisian Flag with tanker assets from Germany, France, Italy and the Netherlands all taking part.
FAF Dassault Mirage 2000D - 3-IS - 01.003 FS "Navarre" [617]
by
Gary Beale
, on Flickr
As always - I hope you enjoyed the round-up and please visit the contributors Flickrs/Photobuckets/Websites and original threads for more superb pictures. I hope the May edition of the Highlights of the Month will be on time!! All feedback welcome.
Steven.